At Private Home Care, we're redefining aging at home by offering concierge-level service that truly offers peace of mind to clients and their families. Our care team works to proactively anticipate our clients' needs and provide care that exceeds all expectations.
PHC's in-home services are designed to help our clients stay in their homes for as long as they desire. In-home care can promote freedom and is a more private and personalized alternative to a care community.
In-home services can support people with a variety of needs, whether its Alzheimer's or dementia care, post-hospitalization support, palliative care, or specialized care for Parkinson's Disease or stroke recovery.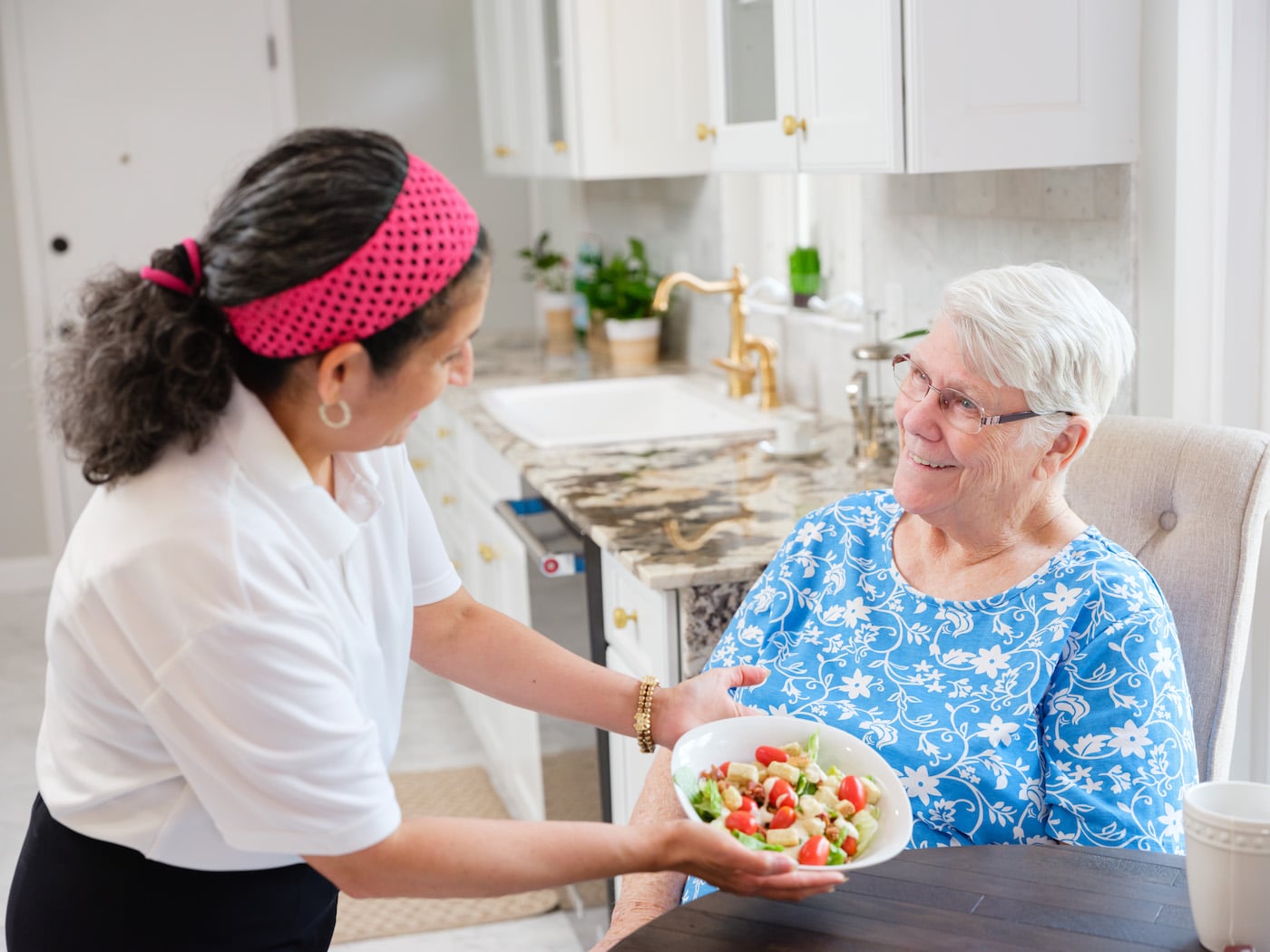 Hourly Care
Hourly care services are tailored to each client. Our caregivers are able to help clients maintain daily routines while aging naturally in place. Hourly care enables individuals to remain in their homes while maintaining their independence and enjoying a better quality of life. Whether a client requires help transitioning home after surgery, palliative care, or care and companionship for a certain amount of time, our flexible hourly care service can be easily tailored to meet every need.
24-Hour Care and Live-in Care
PHC is known for and specializes in 24-Hour and Live-in Care. With these comprehensive service options, clients remain as independent as possible for as long as possible with a Caregiver in their home twenty-four hours a day.
Caregivers provide supervision, develop a deep understanding of care needs, and are able to create a real relationship with the clients they assist. This type of care is also helpful for clients who need palliative care for extra support, comfort, and engagement while living with a long-term condition.
The main difference between around-the-clock care and live-in care lies in the structure:
This type of care typically involves two Caregivers splitting a seven-day work week. One Caregiver works four days in a row, and the other works for three days in a row. By law, live-in caregivers must be able to sleep eight hours per night and have four hours of downtime during the day. This type of care is appropriate for clients who do not require assistance during the night. Of course, in the event of an emergency, live-in Caregivers can respond, even during night-time hours.
In contrast, around-the-clock care typically involves four to five Caregivers who work eight- or twelve-hour shifts, are awake at all times, and provide supervision at all hours.
One-to-One Care Model
With PHC's relationship-based One-to-One Care Model, we work to give in-home clients either one Caregiver or a consistent team of Caregivers who work a regular schedule. This not only provides a consistent care experience, but allows our Caregivers to get to know each client and their unique needs.
We customize our in-home services to each client, no matter their age or how long we are needed. Our assessment process is thorough, and afterwards we walk you through the best plan of care for your loved one and make a recommendation for hourly, 24-hour, or live-in care.
Personal Care Assistance and Lifestyle Support
By assisting with activities of everyday life, our Caregivers help clients remain at home while receiving necessary support. They assist clients in the following areas:
Companionship
Regular feedback to family
Bathing, grooming, and personal care
Assistance with walking, getting in and out of bed or wheelchair
Medication reminders
Light housekeeping, including linen changing, vacuuming, etc.
Grocery shopping and errands
Preparing well-balanced meals in accordance with nutritional, religious, and dietary guidelines
Kosher and other personalized care plans
Social engagement, outings, and exercise based on individual needs
Scheduling and transportation to appointments
Gardening & Pet Care
Get to Know our featured Caregivers
Our carefully-selected Caregivers are the best in the industry. They are professional, knowledgeable, and as passionate as we are about serving others.